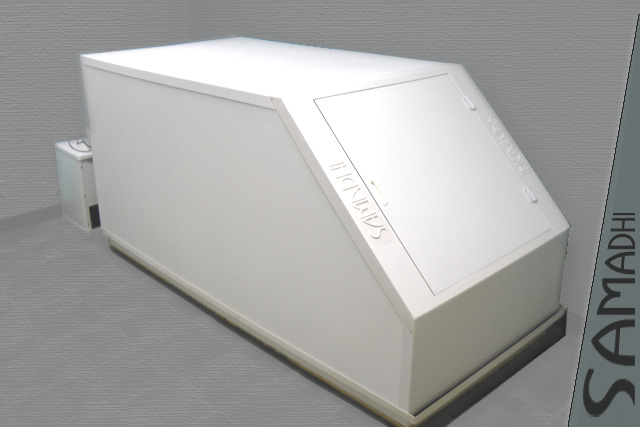 Classic Model
This model is simple, straightforward, rugged, very efficient and very reliable. It's the right size and the right color. It is soft, Comfortable and designed for total relaxation. A classic, spacesaving shape, easily moved into any location. Perfect in a public setting, perfect at home. Experienced floaters choose Samadhi. I have floated in most other tanks and notice that I cannot get to the deep floating experience available in a Samadhi Tank.
ABS Plastic inside and out
Complete thermal isolation
Lightproof
Condensation proof top
Oversize water filtration system
Silent air circulation system
Easily moved through doorways, hallways and staircases
Packed for economy in shipping
Owner's Manual
| | | |
| --- | --- | --- |
| | Inside | Outside |
| Length | 90" | 94" |
| Width | 42" | 44" |
| Height | 40.5 | 44.5 |
What You Get
Your tank arrives complete with water filtration system, water temperature control and air circulation systems. You don't need anything else to have your tank work just fine (except salt of course).
Payment
Standard procedure is 50% down with your order and the balance two weeks prior to shipping. We can accomodate other needs so, don't hesitate to ask for what you need. We do not supply credit. If you can pay the entire amount with your order, we may be able to speed up delivery. Please check with us on that. We accept Mastercard and Visa and can arrange for a wire transfer. We also accept a letter of credit. Checks should be made payable to Samadhi Tank Co., Inc. We love orders! Mail them or phone them or email them. Just keep them coming.
To Order
Get Price List

Send an email using the Feedback form to get the price list. There are different price lists for different countries so please be sure you fill in the "country" section of the Feedback form.

Submit Order

Please call 530-477-1319. Or see the company information below for other contact options.

Pay

If you are paying by credit card, include type of card, your number and expiration date. If you want to pay by check, you can send your check to the address below. We will call and confirm your order by telephone. We are old fashioned and still use the telephone. You can also wire transfer the money into our bank account. California residents add sales tax.
Room Layout